Second Annual Black History Month Play Took Place at Klein Oak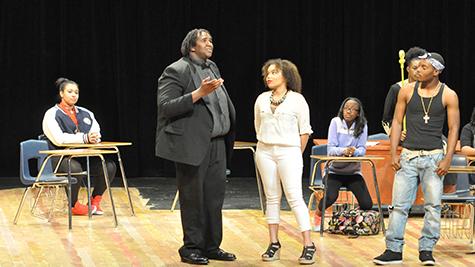 The second annual Black History Month play, "The Untold Story," took place on Feb. 25 at 7 p.m. at Klein Oak.
"It shows the history and roots of African Americans," senior Sofia Spence said. "It's really entertaining and there are more people participating this year."
"The Untold Story" celebrated the achievements of African Americans and recognized their struggles and roots.  
"[The play] is a way for us to teach history," senior Erin Hayes said. "It's a way to show positive images for the black community."
When Hayes wrote a letter to assistant principal Herman Lartigue asking if students could do more for Black History Month and participate in the play that Klein Oak hosted, Lartigue agreed.
"[The play] gives knowledge about the things that African Americans have contributed to society," senior Darrell Daniels said. "I wanted to be in the play because I think it's my duty to spread awareness."
The director of the play, Charnele Brown, also produced, sang and starred in "A Different World" as Kimberly Reese on NBC television network.
"I love the kids passion," Brown said. "They are amazing."
Brown instructed the students to research the characters they played to connect with their roles.
"The play's message is that life has no boundaries and you should live it to the fullest," Daniels said. "You shouldn't let people bring you down."
Admission was free and open to the public.