Senior Scores Soccer Scholarship
Select team soccer player receives scholarship to play for Fordham University in New York next fall
"It's kind of what every athlete wants…it's their goal. I think it'll be hard, but also worth it."
After years of playing for the Houston Texans Soccer Club, sacrificing his time and working toward what he considers to be every athletes dream, senior Owen Lawrence received a soccer scholarship to Fordham University.
"I'm very excited to play for Fordham, it's a huge step but it'll be a great experience," Owen said. "It's not a full ride, it's a partial scholarship. If I perform well, I can get a full ride next year."
Despite having several offers from other notable colleges, he is content with his decision to attend Fordham—especially since it is close to Boston, where the athlete was born.
"I got offers from Fordham, NYU and Boston College," Owen said. "I picked Fordham because first off, it's in New York and I'm from Boston so I've always wanted to move back to the Northeast. Secondly, I fell in love with the campus, the coaching staff and the players, so I just knew when I got there."
At a young age, he was inspired by his father, a former college soccer player, to pick up the sport. Beginning on a youth team, Owen worked his way up to the U17/U18 Academy Team which is the club's oldest group, currently ranked 20 in the country.
"I've been playing soccer for 11 years," Owen said. "I play right back which is like right defender. I am an integral part in opening up the field, getting the ball and going forward. I kind of start the attack as well."
Owen's teammate and best friend, senior Andrew Ramsey, expressed his happiness for the athlete and knows Owen's dedication and determination will bring him success.
"Owen hates to lose and he'll do anything to win," Andrew said. "I am really happy for him and I'm glad he's going to a good college. If I could give Owen any advice it would be to keep doing what he's doing because it's going to get him places."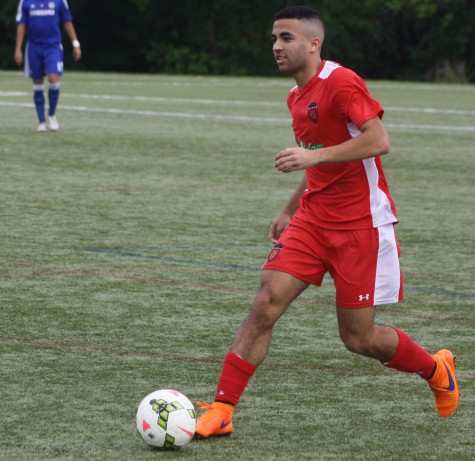 Considering the distance between Texas and New York, Owen's parents continue to prepare themselves for the major adjustment.
"Well, he's my baby so that's going to be the hard part, but after his official visit, I knew 100 percent that Fordham was the one," Owen's mother Therese Lawrence said. "It's all about where he feels the most comfortable. His father and I are really proud of him, he absolutely deserves it."
Although Owen is apprehensive about the future and having to leave his family and friends behind, he looks forward to living in New York and all the opportunities it has to offer.
"Not everybody has the privilege to spend four years in such an incredible city," Owen said. "It always motivates me to have a lot of support and I know that everybody back home will be supporting me and rallying behind me."