Unforeseen weather causes speculation of turf fields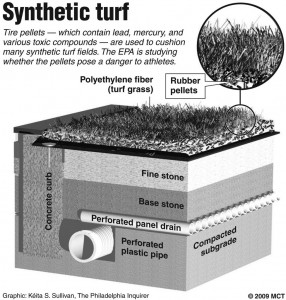 With multiple soccer games affected by weather this season, teams contemplate the benefits of a turf field.A turf field has roughly 32,400 more hours of playability than a natural grass field, making weather less of a factor in games.
"We've actually had a lot of games cancelled this year due to rain," volunteer soccer coach Sarah Zook said. "When we start getting into playoffs, playing on a turf field versus a grass field is an option. Usually after the coin flip, the coach who wins gets to choose. If we don't have as much practice on a turf field, then we may not do as well as a team who actually has a turf field at their disposal throughout the season."
A turf field, which is meant to reduce the cost of maintenance, can cost anywhere from $500,000 to $1,000,000 for installation.
"[Installation] is very expensive," Zook said. "But when it comes down to it, we've had four boys JV games cancelled. The varsity has had to move their games to Mondays, so sometimes we end up having three games a week and they have to play back to back. If they're playing two back to back games, they're obviously not going to be as fresh for their second game the next day."
Senior varsity soccer player Fidel Fernandez said that while he can tell a difference between turf fields and natural grass fields, both types of field have their advantages and disadvantages.
"13-5A wise, only Westfield and Spring High Schools have turf fields," he said. "We have natural grass at Klein Memorial Stadium. If we had a turf field, we could play all the games we have scheduled. The ball moves faster on turf field and you have a little more spring in your step. However, if the grass gets wet, the ball doesn't skip. On turf, the ball always skips."
When weather prevents them from using the field the soccer team must practice inside, Zook said.
"It's difficult because other sports have to use the weight room too," she said. "If we had a turf field, we would use the field rain or shine. Even if every school doesn't get a turf field, it would be a lot easier to schedule our games when we do have rain outs. Something needs to be done though, because missing four or five games in a season hasn't been ideal this year"
Since turf does not need the maintenance associated with grass fields, the school can save approximately $47,000 per year.