The lone diver
He steps to the edge of the board. He knows what he is doing. He has been practicing for months. One twist and a flip. Simple. He launches himself off the board and the world spins and quickly disappears as senior Maximillian Finnegan dives into the water.
Joining at the beginning of his junior year, Finnegan has been competing in diving for about one year now. The team started out with only one other member, and with the other being a senior last school year, it is now up to Finnegan to uphold the legacy of the dive team—by himself.
"It's not as bad as I thought it was going to be," Finnegan said. "All I have to do for practice is jump around and do flips, so it's fun."
Senior Vincent Carag, who is captain of the swim team, believes in Finnegan's ability and is glad that he staying with the sport, saying that his charisma brings a lot to the team.
"I guess he found the fun in diving," Carag said. "He just takes that and runs with it. He's having a good time, which is probably why he is sticking with diving."
Finnegan claims that diving is a way to keep him busy and athletic, since diving is now the only sport that he participates in.
"It helps me stay fit since I'm not in soccer anymore," Finnegan said. "I never really switched, I was doing soccer and diving, but I just lost my competitive spirit for soccer."
Having joined diving while he was still in soccer posed some complications; he had to choose which one would be the number one priority in his athletic career. Carag is happy that Finnegan chose to stay with diving versus soccer.
"He really enjoyed the team camaraderie that was on the swim team," Carag said. "He wanted to join that without swimming, so in order to be a part of the swim and dive team without swimming, he joined dive team."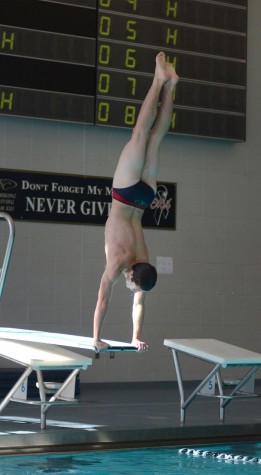 According to Finnegan, being the only member of the dive team, most would say that loneliness is inevitable. Carag admires Finnegan's persistence and dedication to the sport though.
"I would say that people admire the fact that he is still doing it," Carag said. "Diving alone can get pretty lonely. He found a way to still stay a part of team even though he doesn't always train with us."
Since the varsity swim team is the same period as diving, there is no space for Finnegan in the water. Finnegan goes to an off-campus gym to practice and then comes in at second period. Tuesdays and Thursdays, he stays after school and takes up two lanes of the pool while Junior Varsity practices. Meaning that he does not get as much practice time as he should. Swimming and diving Coach Jim Sharp believes that Finnegan has more dedication and self-discipline than most other athletes.
"He's just an overall amazing athlete," Sharp said. "He is training himself, because the team does not have the space to have him practice. He does not have a lot of practice time with the team so he has to do it on his own and work really hard when he does."
Finnegan already had a background in gymnastics, so this helped him transition to the flight part of the sport.
"It helps me visualize things a lot easier because whenever I need to practice a twist, I need to map it out in my head," Finnegan said. "It's just fun being in the air and doing the flips because it gives me a sense of accomplishment."