Never giving up
Memorial swim meet to be held in honor of past teammate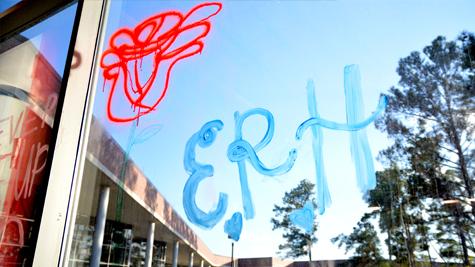 "Never give up." It is the motto on the wall of the natatorium, the words of senior Emily Hiscock, who passed away in 2012 from melanoma.
KC Swim and Dive will be hosting a memorial swim meet on Saturday, Oct. 3 at the school. The meet will include a balloon release, relay races, a prayer circle and a chance for those who knew Hiscock to speak about her.
"Emily and I swam on the same neighborhood team since I was 3," sophomore Kaitlyn Swaim said.  "She was like a big sister to me and I could always go to her for anything."
Whether coached from childhood or befriended later in life, those who knew Hiscock only have kind words about her.
"She was such a sweetheart, she was 9 when I started coaching her," swim coach Jim Sharp said. "She swam for KC up to her junior year I had the pleasure of coaching her in club swim and summer league, till she got sick."
Although a tragedy, Hiscock's passing did bring the swim and dive team closer together.
"The balloon release is really special, we write messages to Emily and then release them," senior Jamie Owens said. "That's my favorite part of the entire meet, aside from watching the team band together. Like I said it really made our team stronger."
This is the second year the meet has taken place and will be different from last year. However, remembering Hiscock will still be the central theme.
"Emily was positive and determined and that's what we strive to be," Swaim said. "Even on her deathbed she told us all to never give up, which is quote that we all live by on KC swim and dive. I think everyone should know that it doesn't matter if it's your last day or you have a thousand more, just keep trying and fighting and smiling."