Klein ISD Graduate Inaugurated as Mayor of Houston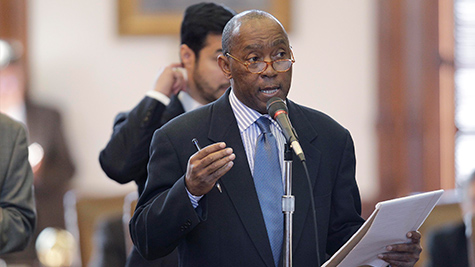 The 62nd mayor of Houston, Sylvester Turner, was inaugurated Monday, Jan. 4 in a ceremony at Jones Hall.
In his inaugural speech, Turner promised to improve the city's infrastructure and spoke of Houston's "hope and opportunity."
"He's going to have to deal with overcrowding and budget issues," social studies teacher Mark Pike said. "However, he has very good political experience and an outstanding education, which will be a big help."
Turner grew up in Spring, and was voted senior class president at Klein High School, where he graduated first in his class. Senior Stefanie Abanto said she was shocked to hear Turner was educated in the school district.
"It's quite an awe-inspiring type of story, because you think, well, here you have someone from your own backyard achieving something so immensely difficult," Abanto said. "Houston is the fourth largest city in the U.S., so for me to hear that a Klein ISD alum could become the mayor of such a great city, I felt a sense of 'I can do it, too' type of attitude."
Several city officials also took the oath of office at the ceremony, including the city controller and City Council members.