"Fandoms" Reach New Heights With Technology
The "fangirl" has evolved in recent years with the development of massive cult followings called fandoms and advances in technology. According to sophomore Sophie Kholmann, fan followings can become addictive.
"I am definitely a 'fangirl,'" Kholmann said. "I am obsessed and passionate about the 'Hunger Games.' I just got so hooked by the books because for me they were like an escape from reality. Once I was finished with the books I came back to reality and realized these characters aren't real. I then started reading fan fiction because the author of the Hunger Games is not going to write any more books. Now that the books are over there is nothing I can do but wait for the movies to come out."
The addiction of following celebrities has been enhanced by gossip magazines and websites. With 43.6 million readers, People Magazine has had the largest audience of any magazine on the market since 2009. Celebrity gossip website TMZ.com averages 10 million monthly views. These magazines and websites expose the personal lives of celebrities to fans through authorized and in some cases unauthorized content, such as paparazzi pictures, interviews and gossip. YouTube and Tumblr do more to influence fans by exposing them to even more content concerning celebrities such as interviews, performances, GIFs, fan art, and fan fiction.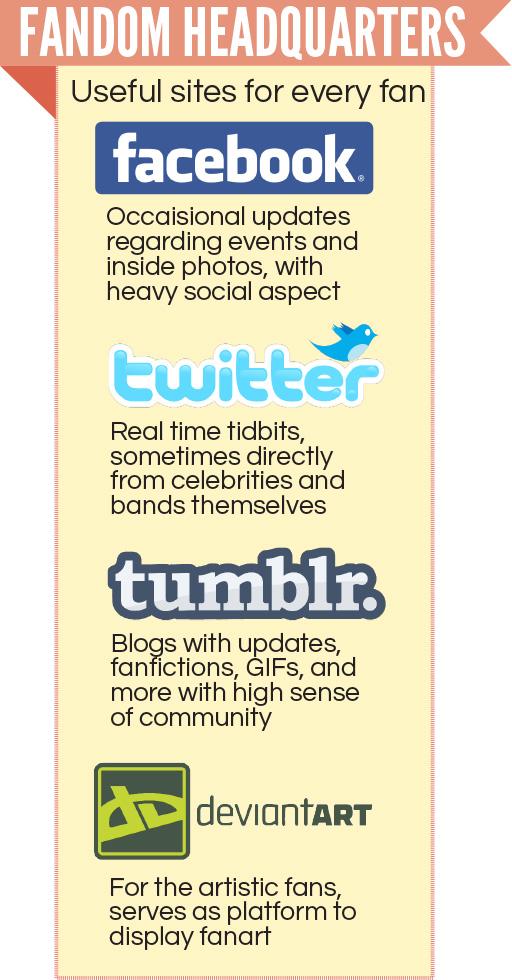 "I am a huge One Direction fan," junior Pierina Inciatre said. "I was first exposed to them by a friend on my soccer team who saw them on the British X-Factor. I pick up celebrity gossip magazines every time I go to the grocery store. I am constantly checking Twitter for updates from celebrities I follow."
Although social networking sites such as Twitter give fans the chance to interact with their favorite celebrities, not all interactions are positive in content. Recently, overzealous fans of Justin Bieber began a campaign on Twitter called "Cutting for Bieber", in which fans were urged to physically harm themselves in order to get the pop star's attention. This campaign was later determined to be a hoax started by a fabricated account and fans still followed suit.
"I don't know why fans would go to the extent to physically harm themselves just to get a celebrity's attention," Inciarte said. "I am a fan but I would never do something like that. One Direction fans go crazy on Twitter if one of the members starts dating someone new, like when Harry Styles started dating Taylor Swift."
Despite classifying herself as a "fangirl", Kholmann does not approve of fans harassing celebrities on twitter.
"I think fans should stay out of the personal lives of celebrities," Kholmann said. "Fans go overboard sometimes, like threatening to kill the person a celebrity is dating on twitter like fans did when Selena Gomez and Justin Bieber began dating."
While studying for his book "Fame Junkies: The Hidden Truths Behind America's Favorite Addiction," author James Halpern discovered that 23 percent of students aspire to be the president of a university like Harvard or Yale, while 43 percent aspire to be the assistant to a celebrity.
"Our generation glorifies celebrity too much," Inciarte said. "I don't think fans should take everything a celebrity does so seriously. A lot fans get so obsessed with a celebrity that they feel that they actually know them. I think fans should keep their interest in a celebrity or fandom just as hobby and not take everything to heart."
Spanish teacher Donna Meredith identifies herself as a Celine Dion fanatic, attending many of her exclusive Las Vegas shows. She offers advice to the younger generation of fans who pay less attention to the quality of celebrity that they follow.
"Be wise when choosing the celebrity you look up to," Meredith said. "Many times, those who we look up to and come in contact with on a daily basis are the best role models, not necessarily a celebrity."