Soon to be a Sooner
Senior Jordan Thomas changes college plans
After visiting Oklahoma University on an official college visit, OU was persistent enough to make senior Jordan Thomas reconsider his verbal commitment to Northwestern University, standing since December of 2012.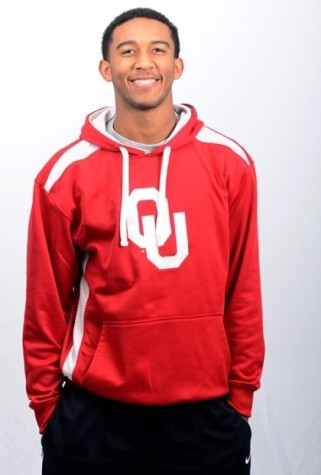 Planning ahead for his future, Thomas hand-picked Northwestern as his college of choice. He officially gave his verbal commitment to the Wildcats in 2012.
"It is a very prestigious school," Thomas said. "And they play big-time football. I basically fell in love with the people and the coaches there."
After committing to Northwestern, their football team expressed their excitement for what was to come.
"They were ecstatic, just as I was," Thomas said. "I was the first of my class, 2014, to commit. They called me 'cornerstone' because I play cornerback."
Through the years, Jordan Thomas has always expressed not only his love for the game, but his understanding of it, which seems to make him such a desired player.
"He is very well-rounded, and a concept guy," head football coach Drew Svoboda said. "You can only be that versatile if you truly understand the schemes."
Although Northwestern was his first choice, Thomas came to find that Oklahoma was a better fit for him.
"OU is a lot closer than Northwestern is," he said. "If I went there, instead of my parents being able to only catch a few games, they can come to all of them. They also have a good engineering program with a better fit for the oil and gas industry."
After withdrawing his commitment from Northwestern, Thomas believes there are high hopes for his future at OU in both football and academics.
"Hopefully I can earn a starting spot on the field," he said. "But aside from football, I want to better myself in the engineering field so I can get a job in a big-time oil or gas company."
As graduation day inches closer for the class of 2014, Jordan Thomas says he is sure he has made the right decision.