Making his mark: swimmer sets standards
His arms slice through the water as he makes his way toward the wall.
Faster. He knows he can do it. He can break another record.
His outstretched fingers make contact with the wall as he glances up at his time — 49.62 seconds.
That is how long it took Kyle Hendricks to smash the record for the 100-yard butterfly stroke.
Voted most athletic of his class, Senior Kyle Hendricks holds swim records at Klein Collins, Klein High, Klein Forest and neighborhood pools across the community. According to Kyle, his dedication to the sport has allowed him to succeed. After seven years of competitive swimming, his hard work has paid off.
"I have won the District swim meet for the past three years in the 100-yard butterfly," he said. "I was named MVP of the swim team last year, and received Academic All-American two years in a row. When I was 16, I was ranked number one in the country for the 200-yard butterfly. I've also competed at numerous National level competitions."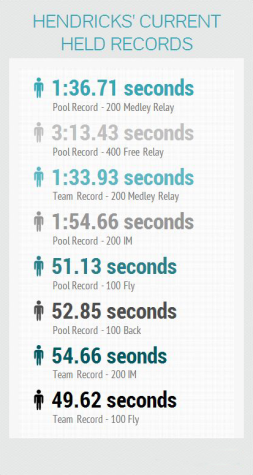 Kyle is appreciative of all of the support that he has gotten from coaches, friends and family, but he feels his parents are his best supporters.
"They will support me no matter what my time is or how many records I have," he said. "From making breakfast at 5 a.m., driving halfway across the country for a 60- second race, to drying my tears after a poor performance, my parents have always and will always have my back."
When asked if she was proud of Kyle, Kelly Hendricks, Kyle's mom, responded with enthusiasm, believing in his ability to work hard and succeed.
"Our goal has always been for our kids to do their best, not necessarily be the best, but do their best," she said. "We feel like Kyle does his best, in practice and at meets, while being kind and encouraging to those around him. For that, we are very proud of him."
Kelly says that she thinks Kyle is a kind, generous, person who loves helping people and watching them succeed, saying that he is someone people can look up to.
"Being Captain has been a real blessing," Kyle said. "It allows me to take all my experience, traditions and knowledge that I have from the great swimmers who came before me and pass it to the next generation in hopes that they will come to love the program that brought me to where I am today."
Caroline Hendricks, Kyle's little sister, is amazed, inspired and proud of his accomplishments. She claims that she could not ask for a better big brother.
"Kyle is an amazing team captain," she said. "He is always trying to figure out the best thing for his team, and how he can to support them best. He works so hard to keep up their spirits and keep them pumped for everything they need to do."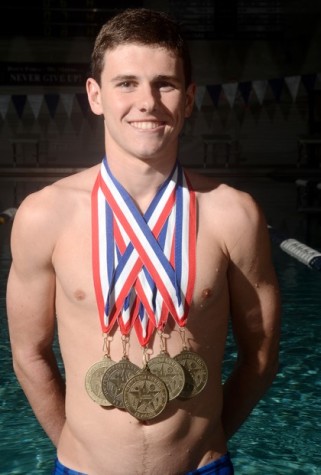 Kyle has expressed his gratitude and joy of being on the school's swim team and also appreciates what being on the team has taught him.
"Being on the swim team has taught me mostly about the power of teamwork and the joy of working with others," he said. "Although swimming can become a very lonely sport, I've been blessed to be a part of a swim team that has always exemplified how much of a second family your team can be."
Kyle says that because of swimming, he is a much more dedicated and devoted person now, and that he cannot imagine what he would do without it.
"What motivates me is my own desire to succeed," he said. "I have an innate nature to push myself to the limits to see what I am capable of, and swimming is the perfect sport for that, as improvement is always available, but perfection is not. My greatest joy in swimming doesn't come from awards or recognition, but rather it comes from seeing how much better I am from yesterday. I've learned a lot about myself and others, and I can't wait to see where it takes me next."