Roaring good time
Cousins take pride in traditional Vietnamese dance
Smoke spirals up into the crisp winter air from the remains of discarded fireworks on the stained concrete as the lion dancers gear up for their performance. The steady pound of the drums echoes their racing hearts, and the crowd's cheering dulls into an ecstatic buzz in the background. The children stare, entranced by the flashing colors and the fluttering eyelashes of the lion costumes.
Lion dancing, a traditional Vietnamese dance involving elaborate and colorful costuming, is a pastime of sophomores Johnny-Vinh Tran, Hieu Le and Jimmy Le. They attend practices and performances at Buddhist sites all over Houston, all leading up to the Lunar 'Chinese' New Year on Jan. 31.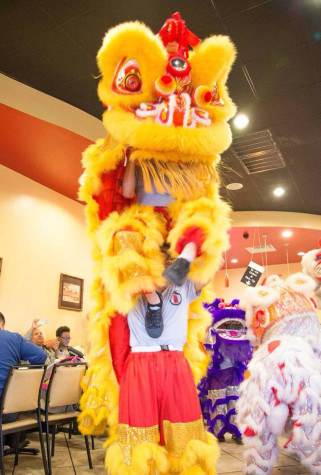 They were first introduced to lion dancing three years ago at their Buddhist temple.
"I was already doing martial arts at the temple when the group was formed," Johnny said. "They wanted us to join because we were already advanced students."
Johnny, Hieu, Jimmy and the rest of their cousins go to the temple on the weekends and practice three hours every week.
"It's pretty physically demanding," Hieu said. "We practice all year, but there are a lot of performances around the Lunar New Year."
Since they were young, the three cousins have watched lion dancing on T.V. and at festivals. When asked how he felt about becoming a lion dancer, Jimmy said he is glad he decided to join.
"It can get really hot, jumping into smoke while in these giant costumes, but I don't mind that much," he said. "Our family comes together and we have fun."