Anything but Grimm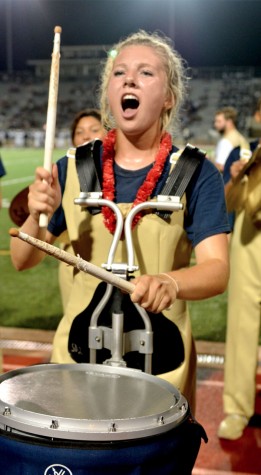 Eyes staring straight forward, head at a perfect angle. She had practiced this a million times. How could she forget? The overall appearance was important–too important to forget the small details. Head high, shoulders relaxed, sticks in hand, drums waiting.
Ready.
Waiting.
Senior percussionist Alysia Grimm has been in the band for four years and plans to be in marching band in college. Being a marching tech and the co-leader for loading was earned by her hard work.
"Working hard is my way of giving back all of the opportunities I'm given," Grimm said. "If it's given to you, take hold of it because not a lot of people get the same privilege and opportunities. I think since I was raised independently with so much freedom, it pushed me to have my own standards."
Grimm has more than one tie to this school. Her mother, father and brother all work on campus. She says that although she can't get away from them, it is a nice convenience to have them around.
"I benefit from having my family work here in ways that make situations more convenient for me ranging from getting money for the vending machine to needing them for something important," Grimm said. "It's definitely a pro that I am able to go see them if I need someone to talk to really fast, or if something goes wrong, they're within a walking distance.
Her brother, economics teacher Andrew Grimm, says that he is proud of his little sister.
"Alysia has always had a great personality," Mr. Grimm said. "She's always wanted to help others and she has such a great heart. I'm definitely proud of her."
Due to two dual credit classes and AP calculus, Alysia doesn't have much time to herself. When she has the time, she enjoys running and likes to play Frisbee. When she starts to feel stressed, she turns to her drums.
"Being in the zone when I'm practicing, performing or even just tapping through a small portion of a piece helps me concentrate and center my frustrations or stress into something physically beautiful," Grimm said. "When things get tough, it's just really hard to stay upset when I'm playing my music."
When Alysia grows up, she says that she wants to be a physical therapist to help others in need.  Her goal in life is to give back to people.
"I want to give back to the community because I feel it's what we are supposed to do," Alysia said. "I grew up learning that a team that builds each other up is the strongest. The same goes for mankind. Even the little things count."