Ralph Lee – Athlete of the week
Breathing hard, he dashes across the court. The blur of green has gone back and forth at least five times now, but he is determined to make this final hit count. He leaps, and strikes. He slowly begins to smile, because he knows he has left it all on the court—or more accurately, on the other side of the court.
Varsity tennis player Ralph Lee is this week's featured athlete. Having played tennis since he was seven-years-old, his passion for the sport allows him to be a dedicated player.
"Tennis is a lot of work," Lee said. "I've been practicing two weeks before [school] even started and at least two hours every day, from the beginning of seventh period to around 4:45 p.m."
Throughout his high school tennis career, Lee has earned many awards but claims his proudest moment was earning a silver medal in a singles tournament. Despite these achievements, Lee does not want to pursue a career in the sport.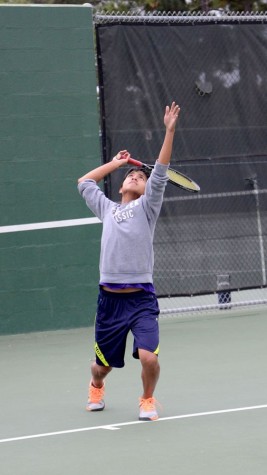 "I'd love to be a professional tennis player but in reality I'm just not good enough," Lee said. "Actually for a career I want to be a teacher, it's my passion for right now."
According to Lee, the reason he got into the sport was because of his friend, junior Justin Varias. Lee believes that without Varias, he would not be where he is today.
"Having Ralph on the team makes the class and practices fun," Varias said. "His outgoing attitude and friendliness with everyone on the team makes us really close as a tennis family."
Although Lee has a love for tennis, it comes with a hectic schedule, that involves getting home at 5:30 every day, eating, showering, doing homework and maintaining his status in the top 20 people of his class. Despite these challenges, Lee perseveres and stays strong for the sport he loves.
"I know it's worth it," Lee said. "I'm playing my favorite sport every day, staying healthy and making great friends."