The man behind the mic
A closer look at Associate Principal Steve Matheson
"Excellence without compromise. It's who we are, it's what we do."
Every morning during the announcements, a familiar voice fills the classrooms from the PA system that guides students through the pledges and reminds them what is expected.
"For the most part, my job is to coordinate the day-to-day operations of Klein Collins," Matheson said. "No two days are the same. I may plan on doing certain things during my day and not get to them because other, more pressing matters arise that I have to take care of."
Aside from being an administrator, Matheson is also a college football fanatic.
"I have a healthy obsession with college football, particularly the Oklahoma State Cowboys," he said. "I love the atmosphere and attend a lot of the games."
Not only is Matheson a football enthusiast, he also made it his goal to visit well-known college football stadiums.
"I love going to historical college football venues," he said. "I've been to Notre Dame, LSU and Florida. I have a bucket list of all the football venues I would like to go to, like The Rose Bowl, The Big House in Michigan and The Horseshoe at Ohio State."
Matheson also enjoys musical performances by local bands.
"I enjoy live music, especially going to hear live bands play the blues or R&B," he said. "I enjoy going to Austin or New Orleans because of all the music venues there."
As an administrator, Matheson says he is focused and particular.
"My friends say I'm OCD," he said. "At home, everything has a place and everything is in its place. If I come by someone's desk at work, there's a chance that while we're conversing I'll straighten the papers on their desk."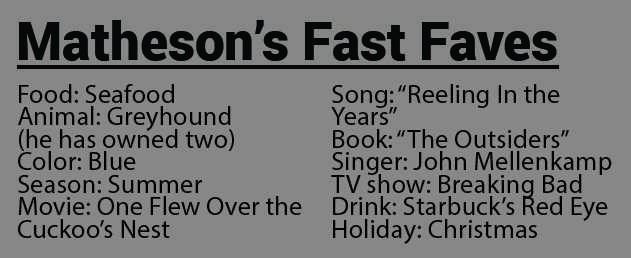 Matheson also loves the tropics or any place with a warm beach.
"If money were no object, I would rent a massive yacht and sail around the tropics with my family and friends," he said.
When he is not attending football games or listening to live music, Matheson works to keep the school structured and disciplined, ensuring that every student feels safe and secure.
"My favorite part about my job is being able to watch the students grow and mature," he said. "I am very passionate about Klein Collins and our students."