Paper towns
Senior builds a city using notebook paper
He pays attention to every detail.
He folds and constructs.
He draws and creates.
He builds the city of London.
Senior Jason Manus is not the usual canvas-and-paint kind of artist, but rather one with a unique ability. He showcases his talent through paper models of cities and buildings.
"When I was little, I loved to sketch and I would always get those 3-D puzzle models," Manus said. "One day, I wondered if I could take this technique and make my own hand-drawn structures. After a few tries, I finally made a small house, then that turned into a row of houses."
Manus' construction process consists of folding, cutting, gluing and drawing on notebook paper. All of these contribute to the creation of these architectural structures.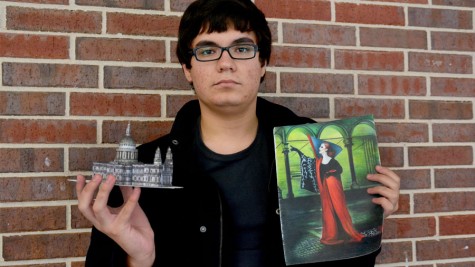 "When it comes to the models, my favorite part is drawing the pieces," Manus said. "I try to get every visible detail onto the page, of course, that is sometimes impossible and I end up overdoing it, but for the most part, I just make some shapes that resemble a statue or pillar, and I just go with that.
Manus recently finished his model of St Paul's Cathedral and the House of Parliament, both major pieces in his ongoing project.
"I'm currently trying to build the city of London, and right now, I'm palming Westminster Abbey," Manus said. "No doubt, the House of Parliament is my favorite. I wasn't sure I would be able to do that one because it's such a unique building, but it came out looking great."
Senior Daniel Mentz, a good friend of Manus, is one of the few who have seen these paper models.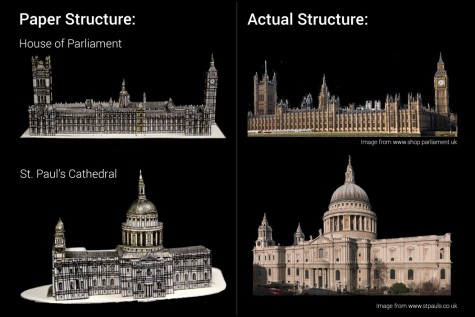 "His paper models are really nice and detailed and it looks like it takes a lot of work," Mentz said. "He's really talented and I think he'll make it far."
Art teacher Mike Hall had similar thoughts when it came to Manus.
"Jason is fascinated with architecture. The 3-D models he builds are unique and original," Hall said. "Jason is an artist. Jason is focused on his artwork and has a future in art if that is his desire."
Although his supporters feel that he has a bright future in an art career, Manus is still undecided, but considers it a possibility.
"I just like to do this because I'm good at it," Manus said. "It's neat to see how I can take just a regular piece of notebook paper and turn it into a famous monument."