Undefeated varsity football team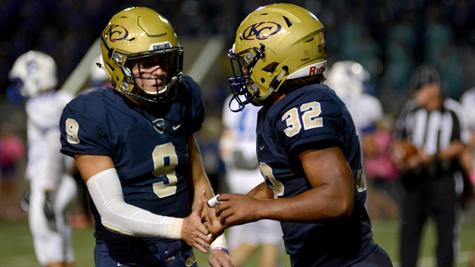 The Varsity football team is undefeated this season 8-0 and is ranked 37 nationally and sixth in the state, as of Oct. 26.
"[A high rank] gives us a sense of pride," senior Nathaniel Edmonds said. "We want something for our class to be remembered for."
On Friday, Oct. 23, the varsity team won against the Montgomery Bears 31-21; moving the team one step closer to district championship.
"We put in a lot of work to get where we are," senior Justin Pratt said. "We go out and play with confidence because we know we have each other's backs."
On Homecoming night the Tigers defeated the Klein Bearkats 28-4. Ernest Watts and Jacob Hume made interceptions while Pratt made four touchdowns.
"[Our success] gives us a good vibe," Edmonds said. "It makes us want to keep ourselves to a high standard."
During the NRG Stadium game against Cypress Woods, Pratt ran for 2,403-yards and rushed for 216-yards. He also made four touchdowns in the first half, giving the team a 34-7 halftime lead. The Tigers added two 25-yard fumble-return touchdowns by junior Jonathon Bucio and Diego Gomez. Ernest Watts supplied two interceptions.
"Our team understands that it is the little things that make the difference," head football coach Drew Svoboda said. "It is not always what you do that matters but instead how you go about doing it."