Athlete of the week – Scott Bazemore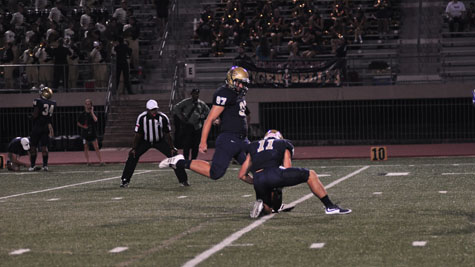 Touchdown, the crowd goes wild, anxiety fills the field and the stands, and junior Scott Bazemore lines up to punt the ball.
Before first playing football in seventh grade, Bazemore said he has always loved  football. According to Bazemore, every day after school the team works hard getting ready for the next game.
"Football has taught me to work with others and I like being part of a team," Bazemore said. "I work hard so I don't let my team down."
Senior Paul Purifoy played soccer with Bazemore for two years and started playing football with him this year. According to Purifoy, Bazemore is strong kicker.
"He is always very reliable under pressure" Purifoy said. "He makes the field goal that get us to win."
Football coach David Schnettler has known Bazemore ever since he was a freshmen from both soccer and football. According to Schnettler, Bazemore works greatly at his weaknesses and uses his height as an advantage to put into the ball.
"[Bazemore] is big asset," Schnettler said. "He busts his tail to make sure he contributes to the team."
According to Bazemore, working hard to make all the kicks always make a proud moment.
"It feels good when we win," said Bazemore. "I put in a lot of hard work and it is life changing when you can create an uproar."