Athlete of the week – Jamie Owens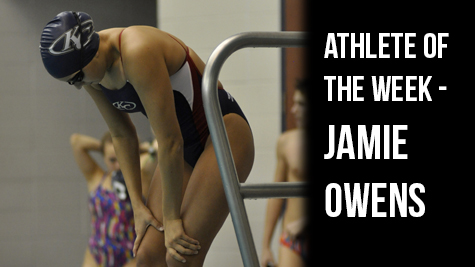 The natatorium is cool and calm, the surface of the water unbroken. The horn sounds, and senior Jamie Owens dives straight into the water.
Owens, captain of the girls' varsity swim team, is both a dedicated athlete and leader, according to varsity swim coach Jim Sharp.
"Her work ethic," Sharp said when asked what made Owens worthy of being the athlete of the week. "And her ability to overcome obstacles, because each day practices get harder and harder. She attacks the sets."
Sophomore Elysian Majeske, a member of the varsity swim team along with Owens said that Owens is a motivated athlete.
"She is hardworking, dedicated, and a motivational teammate," Majeske said. "She's a good big sister too."
Sharp said he believes that Owens is a great athlete, but even more than that, she is a wonderful leader.
"She's shown that she's able to lead this team by example," Sharp said. "She's not the fastest on the team, but she will be fast. She is one of the hardest workers. She is goal driven. Jamie is energetic, and she has a lot of team spirit."
Owens said that she has a reason for swimming other than leading the team.
"I started swimming after my mom passed away to kind of relieve my stress," Owens said. "I've always gotten my emotions out through swimming. I have a lot of emotions, and now that I've started swimming because of my mom, I want to keep going to make her proud."
As varsity swim captain of the girls team, Owens is looked up to by the younger members on the team, according to Majeske.
"I look up to her leadership and how she brings the team together," Majeske said. I want to be captain of the girls swim team my senior year, and I hope to bring all of the girls closer like Jamie does."
Owens said that family is important, and her place on the swim team has given her another "family."
"I have to swim," Owens said. "It's the team that motivates me. And the love for the sport. I love the family [swimming] gives me."