Athlete of the week – Kelly Farina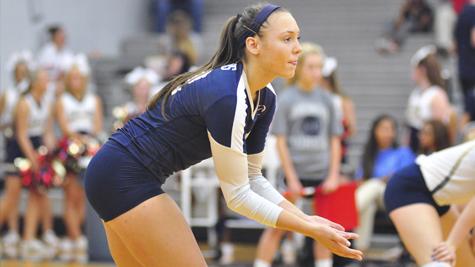 As the ball soars in the air, time stops. Everything surrounding her fades away; the squeaking of the court is silenced, the roar of the crowd hushed. And in that moment it is only her, the ball and a whole lot of heart.
Senior Kelly Farina is an Outside Hitter and a Defensive Specialist for the schools volleyball team. Farina's interest in volleyball sparked when she was only in sixth grade.
"I had an interest for it in the sixth grade," Farina said. "And my parents supported my decision to play in the seventh grade."
Farina feels that people think that volleyball is simply hitting a ball back and forth and she states that it is actually more complex than that.
"People think that volleyball is an easy sport," Farina said. "But there are a lot of sweat, tears, and technical aspects that go into how a team plays and succeeds."
To successfully play Farinas positions, she trains on campus and off.
"You have to have a lot of endurance and fast reflexes as a defensive specialist," Farina said. "I have tough workouts and practices at school as well as club to prepare for my games."
Farina is currently committed to Concordia Texas University in Austin where she will play volleyball for the Concordia Tornados.
"The Concordia coach came to watch me and several other girls play at a club tournament," Farina said. " she emailed me saying that she was interested and from there she recruited me.
Farina feels that her coaches help her not only with volleyball but also with life itself.
"My coaches not only push me to be a great player," Farina said. "But also teach me skills that will help me later in life."
Despite Farinas success, she feels that she would not be where she is without her team.
"You have to work well and communicate with your teammates in order to be successful," Farina said. "These girls are basically my sisters and I love them."