Club Members Prepare for Mr. Collins Pageant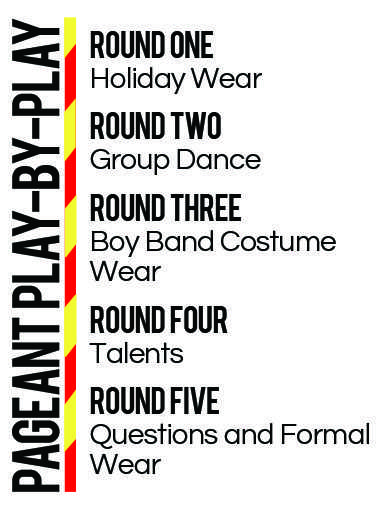 A large group of dancers gather in the cafeteria after school. They sashay, twirl and occasionally stumble to the music. Something is different about these dancers though, something that goes against society's definition of normal. They are all male. The boys are practicing the opening dance for the Mr. Collins Pageant, the school's all male pageant.
On Dec. 7 at 7 p.m., 17 junior and senior boys will take the stage in the annual Mr. Collins Pageant. This year's theme revolves around famous boy bands from the past and present. The pageant will consist of entertaining dance numbers, a talent portion and question and answer session. The winner will be crowned this year's reigning Mr. Collins and receive a cash prize of $100.
"I am really excited to compete in the Mr. Collins Pageant," junior James Yoder, the swim team contestant, said. "I am a little nervous though, but I am going to have fun with it. I just don't want to be boring. I hope to make the swim team proud because I am representing them in the pageant.
To prepare for the pageant, student council must gather personal information about the impending contestants, create decorations and choreograph dance numbers.
"Student council has worked really hard on props and decorations for the pageant," student council member and senior Jordan Mihalco said. "I have also had to memorize my lines because I am master of ceremonies. The pageant will be a little different this year because there will not be as many contestants as past years. It is going to be a great pageant though."
Senior Clay Jones is not only helping to prepare for the pageant as a student council member but will also be representing the tennis team as a contestant.
"I think I have a pretty good chance of winning the title of Mr. Collins," Jones said. "I have been working on a dance and I think it's good. I hope to win the cash prize and carry on Matthew Buzonas's, last year's Mr. Collins, legacy.
Tickets for the Mr. Collins Pageant will be sold at all lunches through Friday for $5 and will also be available for $10 at the door.
Who do you think will take the crown? Leave your prediction in the comments below. Can't go to the pageant? Results can be found at kclegacypress.com on Monday.