FAFSA Deadline Approaches
The Free Application for Federal Student Aid (FAFSA) began accepting applications Jan. 1.
It is an application that seniors fill out so the government can determine the amount of money the individual could potentially receive for their education.
"The FAFSA helps by giving students an opportunity and providing them with the money and resources they need to go to college," senior Matthew Ching said. "Students can get that college experience and the education they need."
Colleges use these applications to decide if the student is eligible to receive scholarships, grants, or government subsidized loans.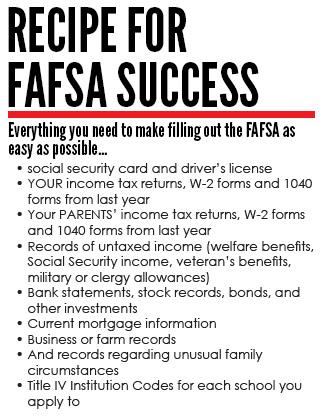 "When students put their information in, the application also asks for the schools that the students are interested in," counselor Charlye Ivy said. "That information is sent to the colleges, and when the colleges get back with students, they will let them know what they're eligible for."
Many seniors who have applied see that the application can only benefit them and their education.
"Definitely fill it out, because college is expensive and depending on where the student wants to go, the price changes," senior Jessica Salomon said. "Any help provided, whether it's from the school itself or the government, it's great."
Other seniors, like Hunter Alexander know that the FAFSA will benefit them as well by helping them get the education they deserve.
"A lot of people do need it because not everyone can pay for college, even though they should go to college," Alexander said. "The program is really beneficial to most students because not everyone is able to go to college. Having that help is really beneficial."
The national deadline is on June 30 but it varies depending on the school, seniors who wish to be considered are required to have their applications submitted so that the government can determine whether or not they are eligible for financial aid.
"If the student applies in January, then it's like first come, first serve. Whoever applies first gets the money first and the most money too, so that's a lot of help," senior Cindy Phan said.
After the deadline, it takes about four to six weeks for the government to process the application in order to inform the student if they will be receiving financial help.
FAFSA Website http://www.fafsa.ed.gov/
Title IV Institution Code Finder http://www.finaid.org/fafsa/tiv.phtml