Students Find Themselves Mistaken as Celebrities
With fans' screams morphing into white noise and camera flashes blinding her eyes, junior Madison Molitor walks into the stadium waiting to see her idol, Taylor Swift, perform. A group of adolescent girls emerges from the crowd, ambushing Molitor, convinced she is the celebrity they paid to see. Molitor is taken aback.
People often hear stories of others being misconceived as doppelgangers to celebrities; look-a-likes making money off of appearances and charging strangers to take photos with them. While often these mistaken identities are simply a friend's opinion, every now and then, one can even be seen as the actual celebrity themselves.
"They honestly thought I was her," Molitor said. "I didn't want to crush their dreams, so I was like 'oh yeah, I'm Taylor Swift'. One girl was screaming, wanting to take a picture with me, so I made her night and did it."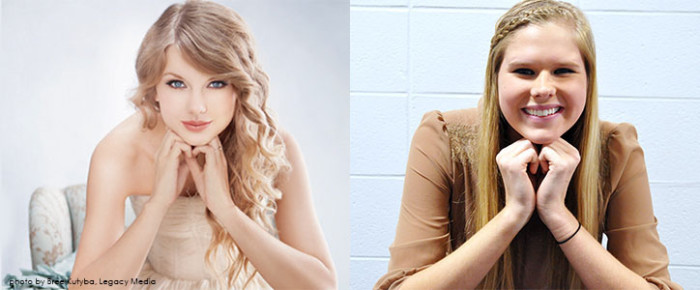 But Molitor is not the only doppelganger in school. There are many students who have been mistaken as celebrities. Senior Hunter Horne said he has experienced being thought of as the very popular and iconic pop star, Justin Bieber.
"I can't always really tell if people are joking or not, but I used to hear them whispering behind me in the mall things about me looking like the Biebs himself," Horne said. "Everyone on yearbook staff has been calling me Biebs for about a year now, just got used to it."
Even though Horne has gotten used to it, being known as a celebrity at school can bother some students, hindering their relationships. Sophomore Cullen Fenton, and Harry Styles lookalike, said he can never tell when people are being genuine with him, especially girls.
"Not to brag, but I am always getting attention from girls for the way I look," Fenton said. "I didn't choose to look like Harry Styles, and it's hard to tell whether they're talking to me because of me, or rather for how I look. Let's just say I'd rather be Cullen than 'that guy from One Direction.'"
Less musical, but still a valid claim, is senior Madeline Kasper, known as Emma Stone throughout her classes and in the hallways.
"I remember watching 'The Help' in English," Kasper said. "My classmates stop every five seconds to say 'Hey, look it's Maddie!' It's a compliment, but it does get really old after awhile."
Overall, students said being known to share their looks with someone famous can be interesting, can be fun and will obviously grab a good amount of attention. Yet many of the students agreed that they would rather just to be known as themselves at the end of the day.
"When it comes down to it, I'd rather be myself," Fenton said. "Why would you want to be someone else?"
Has anyone ever mistaken you for a celebrity or musician? Comment below with your lookalike story!