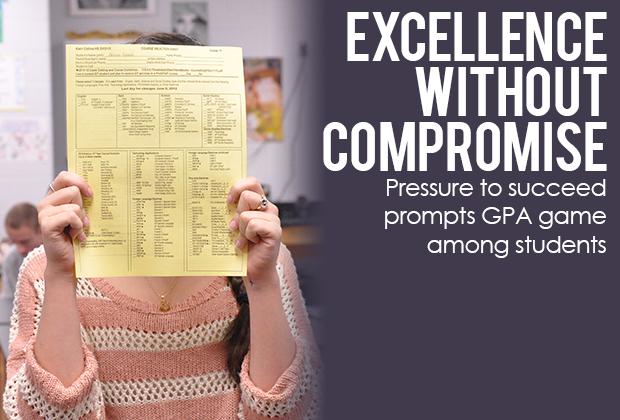 Flying under the radar in regulars classes, receiving straight A's and sailing straight into the top 10 percent, students use the GPA game to get ahead in school.
Advanced Placement student senior Catherine Himberger said that the GPA game provides students with an unfair way to get ahead.
"I thought it was like cheating through high school," Himberger said. "People really need to be taking the harder level classes if they can take them. If everyone did it the right way, then it would be more of an accomplishment for everyone rather than 'well that guy played the GPA game so it's pushing me back'."
In addition to diminishing accomplishment, junior Luke Roth said the GPA game reflects on a person's morals.
"I don't like the people who play it," Roth said. "I think it is kind of unfair and it is abusing the system. While it's all fair in game, it's just not right."
Despite the moral dilemma the GPA game presents, there are benefits to playing the game.
"I know people that take all regulars and their GPA and rank is way higher because they take the easy route instead of challenging themselves," junior Ariana Gabas said. "They could end up in to 10 percent and get automatic admissions. I know people that are in AP classes that are not in the top 10 percent."
Other than supplying students with an easy way into the top 10 percent, AP English teacher Kim Abshire said that the GPA system has considerable advantages and disadvantages.
"Somebody invented a grading system for a reason, as a motivating tool," Abshire said. "It isn't the best case scenario, but it can be effective. GPA competition keeps apathy at bay. As a teacher, I wish kids could just relax about their grades. The biggest disadvantages are stress and tension and vicious competitiveness."
According to Abshire, the benefits of playing the GPA game can pull students out of AP classes.
"A student can guarantee acceptance to a school they want to go to by playing the GPA game," Abshire said. "That's a pretty big carrot to place in front of somebody. Also, some people have an innate desire to beat other people at things. I have had kids leave my class due to the GPA game. For some it was really not a smart decision. They missed the high level of instruction that they were clearly capable of understanding."
Rather than allowing the game to persuade her to take lower level classes, Himberger said she continued to choose advanced classes.
"I just wanted to keep pushing myself," Himberger said. "Now that I look back on it, I do have some regrets. If I could go back, honestly I wouldn't have taken any AP Histories, but I still would've taken AP English. I'm not good at history and I should've done that. I could easily be automatic to the University of Texas right now, but I still know it will be more of an accomplishment when I get my acceptance letter. I'll be more prepared."