90's Nostalgia Renewed Among Students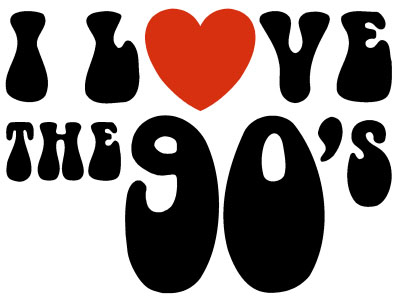 Sitting at lunch, senior Amanda Lund unexpectedly asks a question that brings a perplexed look of realization to her friends, "Hey, do y'all remember how awesome the nineties were?" This single question sparks chatter about cartoons like "Hey Arnold", fashion trends like hair scrunchies and fanny packs, who the cutest member of "The Back Street Boys" was and if Beanie Babies are actually worth anything today.
Within the last two years, there has been a spike in interest among many teens regarding nineties pop culture, television, music, and fashion. In 2011, Nickelodeon launched "The '90s Are All That" on their sister network TeenNick, a nightly block of classic nineties shows like "All That", "Kenan and Kel" and "RugRats." With the resurrection of nineties favorites, teens do not have to scour the internet looking for clips from these long forgotten shows.
"I felt like Nickelodeon finally listened to us," Lundsaid. "I was really excited about my favorite show "Keenan and Kel" coming back on."
Television in the nineties not only played a role in laughter with cartoons and sitcoms but also played a role in politics. According to the New York Times, in 1992, 15 million viewers watched Bill Clinton hold a forum-style interview on MTV that allowed young voters to ask him questions.
"Bill Clinton changed politics with his "Rock the Vote Campaign," teacher Robert Dombroski said, "He defiantly gained the youth vote with his appearance on MTV as well."
MTV also aired popular music that the youth of the nineties was able to listen to because of new technology. Cassette tapes, portable Walkman and Hit Clips that only played thirty seconds of a song were just some methods of listening to music back then.
"I remember that I loved Britney Spears so much that I once recorded her song on the radio with a tape recorder and played it back on the bus because I didn't have a Walkman,"Lundsaid.
Senior Katherine Wells said she listened to her music through a different method.
"I had this pink Hello Kitty radio that I would play CD's with while jumping on my bed and listening to music," Wells said. "I also had one of those portable CD players and it had head phones instead of ear buds, so it was difficult to share music with my friends."
Modern retailers like Urban Outfitters cater to the nineties fashion loving youth by carrying trends from the decade like high-waisted stone wash jeans, jelly shoes, concert tee shirts and fanny packs with the more modern embellishment of spikes.
"In the nineties, I wore washed out jeans and Jelly shoes all the time,"Lundsaid. "I would wear my brother's snapback hats sometimes too, which is kind of coming back in style. And if I could get away with wearing overalls today, I totally would."
According to senior Katherine Wells, life was simple. Playing outside and spending time with our families was a staple. The simple times of the nineties shaped the childhood of generation y.
"I remember playing in the sprinklers with my sister on weekends and watching Saturday morning cartoons like the Rug Rats and Dragon Tales", senior Katie Wells said.
The innocence of nineties pop culture and even life lost in the swirl of today's luxuries is just "everything changing" according to junior Jeremy Hsu.
"I was able to enjoy a lot of the nineties; it was a time of transition," Hsu said. "The kids today are not able to enjoy the originals like lot of the TV shows and toys we played with. Four year olds with iPads ask for Wi-Fi now. It was just a simpler time."