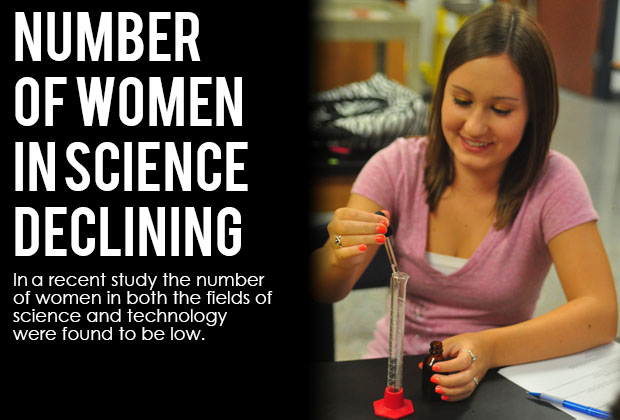 In recent research conducted by Women in Global Science & Technology and the Organization for Women in Science for the Developing World, the number of women in both the fields of science and technology in many countries including the United States were found to be low.
"Women have the same amount of brains, heart and skills as men do," junior Lie Liu said. "But unfortunately, at times, they are not seen as equals. Though they are just as capable in the fields of science and technology as men, their gender is sometimes flaunted across the stage while their hard work is pushed to the side, ignored and unappreciated."
Senior Marilyn Cederburg admits that women are faced with unjust obstacles at times, but claims that any hardship can be overcome by the support of family.
"Women can accomplish their goals on their own but having a support team at their side can truly make a difference," she said. Reassurance and words of encouragement could help women find the confidence they need to pursue the long road to these challenging fields."
Though some women have fallen victim to discrimination, a hurdle blocking the way to a female's success is not always present.
"Luckily, I have been blessed enough to have never experienced any obstacles as a female," sophomore Madison Griffin said. "My confidence and solid dedication have been the major things helping me steer clear of discrimination. My ability will not be doubted, my passion will not be ignored. The main thing is to keep in mind where I am heading and to take that road head on."
The number of women in technology may be decreasing, but Cederburg said that she hopes to defy the odds by becoming a member of the field.
"I can picture myself working in the technology field because seeing pieces that are seemingly insignificant being molded together by my own two hands brings me joy," Cederburg said. "I have a need to imagine, build and create. When I take apart a gadget, I feel like the medical student who dissects a body and marvels at the greatness of the human anatomy. Technology feeds my curiosity and satisfies my wonder."
Science teacher David Henderson claims that the number of women in these two fields will in fact rise in the future, no matter what the statistics are saying, but does say there will not be a change in the numbers anytime soon.
"The success of women has to do with the values they were raised with as children and not every household bestows the same set of ideals on their daughters," Henderson said. "With time, later generations of women will grow and settle into their true potentials as cultures find a common ground on things such as education and the role of women in the professional world. The numbers will rise in the future as the change becomes the new custom."
According to the report, greater access to education is "not a solution" and that there is no "simple" answer to increasing the number of women in science and technology.