Swift to sell
Artist Taylor Swift releases her brand new album 1989
Releasing her first fully-fledged pop album, Taylor Swift has been sweeping the nation with her new sound. Having sold more albums in its opening week than any other in the past decade, "1989" has been turning heads and opening wallets all over the world. Swift's well-anticipated new album does not completely follow her usual sentimental acoustic trend.  Swift's first album was fully country, no question about it. "1989" marks the start of a new chapter in her book of music: straight-up pop. At age 16, she wrote what she knew—boys, bullies and possibilities. While it is safe to say that her song writing process may not have changed, her style, music and personality has transformed into something completely surprising.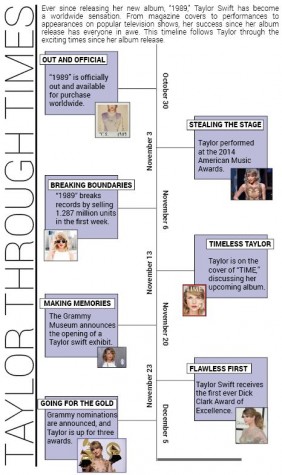 Although her sound has been one long crescendo from country to pop, Swift seems to have made the expected feel unexpected. While most of her previous music revolved around happiness in a relationship, and depression without, "1989" voices quite the opposite opinion. One of the best examples of her new style would have to be the very electronic track "Welcome to New York." Or even better, "Blank Space", the song that shows Swift is not only in on the joke, but that she relishes in it. Like a scarlet letter, she flaunts what society thinks of her, because in the end, she believes that she can "Shake It Off" when it comes to other opinions.
While it seems Swift has left her tear-stained guitars and riding boots in the closet, one can find a few of her old habits in the album. Track 10, "How You Get The Girl", seems as though it could be placed on her previous album Red, considering its style, which is quite the feat considering the difference between the two albums. In the past, Swift had trouble keeping her songs under four minutes, but with 1989, only three songs peak just above the four-minute mark. These slow, sentimental tracks are what connects Swift to the fans, and reminds the listeners of her roots. These tracks essentially make the album.
Although the album was certainly a shock to most faithful fans, it was one that was welcome. Swift's ability to adapt from genre to genre is one that cannot be found among most artists. Swift's talent to reach out to the fans through her music is admirable and is something that she accomplishes once more with these new 13 tracks, (19 for the deluxe). It was a brave choice to switch genres so quickly, but it was one that was well worth it.