Academy Rules Force Decision, Impact School Team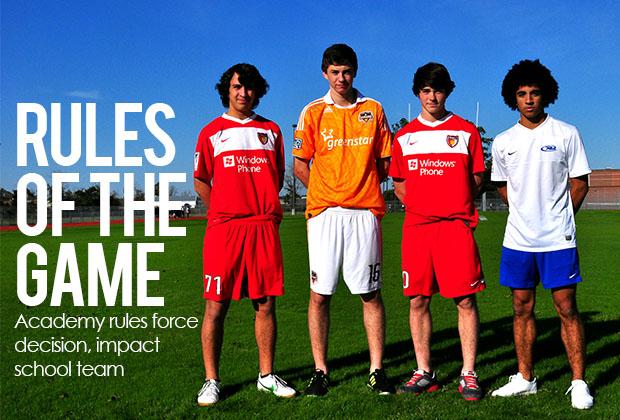 Junior Matthew Dorsey, along with sophomores Owen Lawrence, Aaron Santellan and Andrew Ramsey, all play soccer on different U.S. Soccer Development Academy teams throughout the city. However, last year Texas made the decision to extend the season from six to 10 months, with the rest of the country following suit this year, in order to close the performance gap with top soccer playing countries. Because of time conflicts and increased risk of injury, players are now forced to choose between playing for an Academy team or playing for school.
According to head soccer coach Darrell Hamlett, while it is not fair to force such a decision on players, the decision is understandable, as soccer seasons, talent levels and coaching skills vary throughout the country.
"The goal of the Academy is to have a kind of national season where teams are competing at the same time," Hamlett said. "There would be no way for the Academies across the country to take a uniform break from their season so that their players could play for their high schools."
For all four boys, the decision to switch to Academy fell to the possible future benefits.
"More college coaches and coaches from division 1 schools watch me play because I'm on Academy, which is the main reason why I chose Academy," Santellan, who plays for Texans Academy, said. "Through Academy I've gotten different e-mails from colleges looking at me and I've been able to go to a lot of different soccer camps."
With limited opportunities to play soccer in college, and scouts tending to recruit almost solely from Academy teams, the boys and their families felt that making the switch would prove most beneficial, given their goals. Regardless, their absence from the school team takes a toll according to varsity soccer player, senior Ryan Lester.
"One player doesn't make a difference because soccer is completely a team game," Lester said. "There has to be a solid team foundation and good communication between people in order to perform well, but they make a difference in that they make plays and help decide the outcome of games and we lose their experience due to the rule that they can't play both for club and school."
However, despite the loss of talent, Lester understands the reasoning behind the boys' decision, as playing Academy comes as a great opportunity and will benefit them greatly in the long run. Nevertheless, last year the school team lost two players to Academy. The same year, Tomball High School had two players quit Academy to join their school team. In the end, Tomball advanced to playoffs. Hamlett said that this year the loss of players serves as motivation.
"On paper [losing four players] would put us at a disadvantage," Hamlett said. "However, knowing that we would not have these guys from day one of this year has inspired the current players on the team to work harder to try to replace them. Realizing that, [team members] dedicated themselves to becoming better players. In the long run, it will benefit those players and the program."
In order to gain training time, all of the boys are a part of the soccer class, something unique to the school. According to Lawrence, who plays for Texas Rush Academy, despite being in the class, it is the team camaraderie he misses most. Ramsey, a part of Texans Academy, said that if he commits to a college for soccer before his senior year, he would love to return to the school team. If Dorsey, a member of Dynamo Academy, had his way, he would commit his time to both Academy and the school team.
"I miss it, especially last year when the school team was close to getting playoffs," Dorsey said. "I really wanted to play to try to help us get there, but I couldn't. I love my high school team as well as Dynamo and it feels special to represent the school team."