"Les Mis" A Hit, Enjoyable Adaptation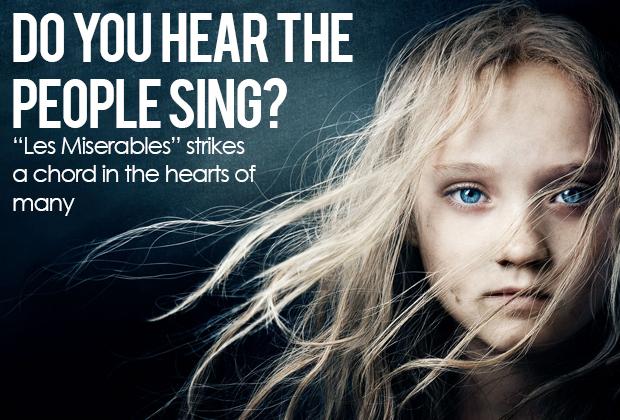 Originally based on the French novel by Victor Hugo, "Les Miserables" hit movie theatres with wonderful songs by Claude-Michel Schönberg on Christmas Day 2012.
The ex-convict Jean Valjean, played by Hugh Jackman, finds himself hunted by the policeman Javert, played by Russell Crowe. He then agrees on taking care of Fantine's , played by Anne Hathaway, daughter, Cosette, after her death. As the years go by the poor get poorer which starts discussions of revolution. One of the young revolutionaries catches a glimpse of Cosette, played by Amanda Seyfried, who is now a young woman and instantely falls in love with her. As a fight ends, everyone but Marius Pontmercy, played by Eddie Redmayne, is dead. Marius had been saved by Valjean who tried to bring him to his love Cosette.
The movie, which is mostly sung instead of spoken, touched and broke my heart multiple times during the 158 minutes. Professionals and musical theatre know-it-all's will probably criticize some of the singing by Jackman or Crowe, however the average person can enjoy it. What was more important to me was the convincing acting, which was done perfectly. Besides the acting, costume and make-up were wonderfully done, too. Even the actors' teeth were adapted to the time period. I can completely understand why this movie is nominated for eight Oscars.
One of the longest running musicals of all time has brought much emotion and power to the big screen, and I highly recommend seeing it.  Almost everybody of an older generation, whether they have read Hugo's novel or not, knows the story, while younger people are often not familiar with it. The movie is a good opportunity to get to know "Les Miserables."